1. How can we be sure that the vision we have for our new windows will turn out the way we want it to?
You must insist on having the designs properly rendered on large printouts so that you can see what they are going to look like and can formally approve them in writing. You should also check that the company offering to do the work is capable of delivering the quality you seek within the agreed budget.
2. What can we do about the damage to our beautiful old stained glass windows; the glass has cracked and the glass painting has deteriorated?

You need to commission a studio like Bovard Studio that specializes in restoring valuable old stained glass art. There are techniques for restoring all of the lost splendor to you windows and also ways to preserve them so that they will last for many generations to come.
3. How can we find out what can be done within our budget? We cannot even begin to design the solution until we know what is possible.

You could hire expert consultants to help you. On the other hand, you could find an experienced stained glass studio (like Bovard) that is happy to spend quality time with you on the project before they provide an estimate or quotation. You will need to provide them with all the information you can as well as with the solution you envisage. Their experts should be skilled at drawing these things out of you so that they can provide you with a list of alternatives.
4. What causes bulging?
As some stained glass windows age, the flat surface deflects, a condition that is commonly referred to as bulging. This can be a symptom of significant structural failure.
Lead has very little strength. If you hold a strip of lead came horizontally out from your hand, it will fold over from gravity as it cannot hold its own weight. This soft material lead makes a perfect glazing material because its softness and flexibility protects the artistic stained glass while being a strong enough matrix to hold the stained glass window together. The lead came is not the only part of the structure of a stained glass window that holds it up. A large stained glass window is constructed with panels of stained glass that should approximate 12 sq. ft. or less in size. The flanges of the lead came are packed with glazing cement in the space between the stained glass and the lead came. This material not only weatherproofs the stained glass window but also stiffens it, adding about 50% to the strength of a stained glass window.
The panels are set into the mullions and muntins of the window's frame which individually support each stained glass panel. Large stained glass windows are made up of multiple stained glass panels. Steel reinforcing bars are placed across the surface of the stained glass panels attached to the solder joints of the stained glass window, as the solder joints are the strongest points in the lead matrix holding the stained glass window together. The steel reinforcing bars are attached into the surrounding window frame to hold the panel flat. The steel reinforcing bars are designed to hold the stained glass panel in a vertical plane keeping it flat and structurally sound.
As the stained glass window expands and contracts over time, the stained glass panel can break away from its steel reinforcing system. The expansion and contraction cycle also causes the glazing cement, a major structural as well as weatherproofing component of the stained glass window, to loosen weakening the window. As the stained glass panel weakens and breaks away from its steel reinforcing system it begins to sag resulting in bulges. (Note: Some stained glass window designs are more prone to bulging than others.)
Temperature changes are what cause expansion and contraction cycles in all building materials including stained glass windows. Heat from solar gain is trapped between unvented, improperly designed protective covering and the stained glass window. Stained glass efficiently absorbs the sun's energy causing solar gain to be trapped between the stained glass and protective covering. This is a major cause of accelerated deterioration in stained glass windows resulting in premature bulging in stained glass windows.

For example, one study conducted in Chicago in the 1990's of the heat buildup from solar gain in the air space between the stained glass and the protective covering measured temperatures of up to 150 degrees Fahrenheit on a 20 degree January day in unvented protective covering. This is an example of exaggerated expansion and contraction cycles which can result in premature deflection (bulging) and structural failure of stained glass windows.
In the case of serious deflection of a stained glass window, the stained glass will crack and eventually even pop out of the lead came.
5. Why does the protective covering currently on our windows discolor so severely and rapidly?
The type of protective covering that this question refers to is polycarbonate. The most common brand name is Lexan®. The yellowing is caused by ultraviolet (UV) light. Lexan® is by far the strongest protective covering material available. The surface is much softer than glass and windblown dust can cause microscopic scratching on the surface which, over time, causes the surface to haze. The combination of yellowing and hazing results in severe discoloration in simple polycarbonate. Most plastic protective covering placed on church windows up through the 1980's was simple polycarbonate. Due to this problem, General Electric, the maker of Lexan® brand polycarbonate developed Extended Life Lexan® (Lexan XL-10) to resist yellowing and hazing. Extended Life Lexan® has a coating of acrylic (a material that is significantly harder than polycarbonate and also blocks UV light on its exterior surface). This greatly reduces the yellowing and hazing problem for Lexan®.
When polycarbonate is selected as your protective covering material for its strength in protecting your stained glass windows from vandalism or storm damage, be sure Lexan XL-10 (Extended Life Lexan®) or equal is specified since simple polycarbonate is still on the market for a few dollars less.
6. What about fundraising for my church's stained window heritage?
If you don't have the funds on hand to purchase stained glass art for your church or other place of worship, you still have options. Some funding strategies that can help you get the stained glass panels, windows, or ceilings you want for your religious space include:
Put the word out: Put a notice in the bulletin and announce that you are raising funds for stained glass artwork at Sunday School or a weeknight service. People respond with surprising generosity when given the opportunity to leave a lasting legacy in stained glass art.
Begin accepting donations from members of your church or parish and others who want to help. Display a fundraising poster and allow people the opportunity to donate. Look for a sponsor willing to pay for your religious stained glass. Your sponsor might be an individual, a family, an organization, or a class willing to donate the stained glass art you need for your religious space. In exchange for their generosity, a small bronze plaque commemorating the donation can be displayed near the stained glass art, or the donor's name can appear in the artwork itself. When individuals are given the opportunity to leave a lasting memorial for themselves or a loved one and promote the work of the church, they respond.
Purchase one piece of stained glass art and solicit donations to help pay for the rest. Get the first church stained glass windows ordered and installed to allow potential donors to see what they are supporting. Once they see the transformative power of the stained glass art, you'll likely find that your fundraising job will be significantly easier. New pieces of stained glass can be added as funds become available.
Sample Church Bulletin Announcements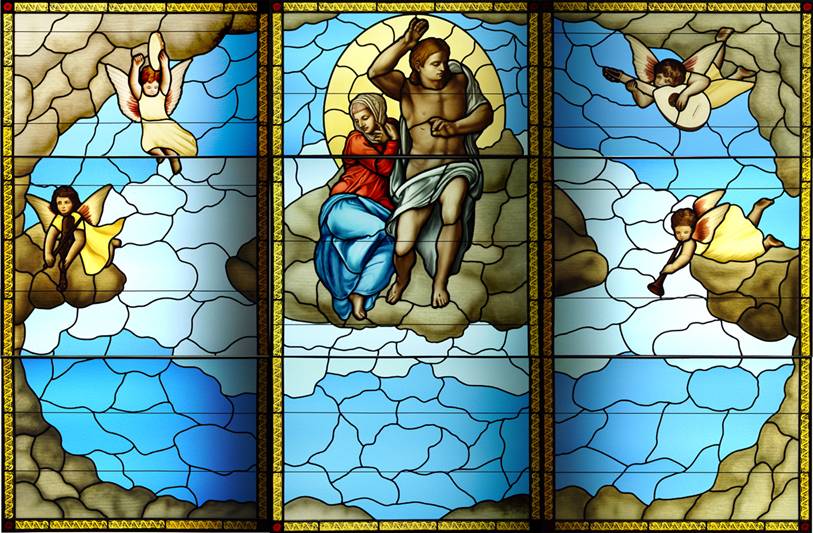 Fundraising
We have been considering stained glass artwork for our church and we would like your help. If you are interested in sponsoring a stained glass window, then please contact the church office. You can also visit www.bovardstudio.com to see well over 1000 examples of religious stained glass art.

Our Stained Glass Campaign is currently underway. Sponsor your window or part of a window and be a lasting part of your Church. You can view the rendering of the stained glass window by the bulletin board in the Church Hall.

The stained glass windows are now available for sponsorship. What a wonderful way to leave a lasting legacy for a family, a group or a loved one. You may view some of the designs on the poster in the Church Hall.
Fundraising idea brochure:
Stained glass memorials are the perfect way to fund stained glass art for your house of worship. These memorials give church members the opportunity to honor loved ones or accomplishments through beautiful stained glass. Bovard Studio, Inc. memorials consist of a stained glass window featuring memorial plaques. Plaques can be sponsored by families, organizations or individual members of the congregation. When you sponsor a plaque on a stained glass memorial you are not only creating a lasting legacy in your church, but you also are helping make your house of worship a more beautiful, comforting place.
7. What is Bovard Studio's Stained Glass Restoration Process?
After a contract for a full restoration or relead is received:
A field crew is scheduled for window removal

Once on site, the crew will set up access to the window. Usually, scaffolding, ladders or a man lift.

If an exterior removal, protective covering must be removed first, if an interior removal, the crew will protect surrounding surfaces with plastic and drop cloths.

A HEPA filter will be used nearby to remove dust and contaminants that may be generated during the removal process

With Personal Protective Equipment the crew will begin the process of removal

The removal technique will vary depending on the type of frame, and method of glazing. It may involve removal of stops, glazing putty, sashes, or mortar to free the window from the opening.

Windows in very poor condition usually require stabilizing with conservation tape prior to removal.

Once the window is removed from the opening, it is carefully packed in a foam lined wooden crate for shipment.(usually in our own enclosed trailers).

After the window arrives at the studio, it is unpacked and documented.

Documentation requires that photographs and details be taken of the window in preparation of restoration. A restoration project book is then created for the restoration craftsperson's outlining specific guidelines for restoring individual projects. This book includes all information the craftsman will require including glass replacement samples and quality control approval sheets.

Disassembly: Two rubbings are made on paper with hard wax or graphite. Notes are made on the rubbing about texture, lead sizes, direction, repairs and measurements. Windows with stable paint are then placed into a shallow water table for underwater disassembly. The water limits the lead exposure of the craftsperson and also helps to soften the cement and clean the glass. The first production step of the restoration process is to disassemble the window. The old lead came is removed and placed in secure toxic waste barrels for recycling.

Disassembled stained glass pieces are then dried and placed on one of the rubbings exactly as removed from the original window.

Assembly begins by securing building stops onto one corner of the build rubbing. A lead H channel called "Came" is placed into the build corner first, then glass, then Came and so on until the panel is complete.

Soldering: The exposed joints at the Came intersections are then soldered on one side of the panel, using an electric soldering iron and then it is turned over and soldered on the opposite side.

Cementing: When the soldering is complete and the panel has been inspected, it goes to Post Production where it is waterproofed with a compound called "Cement". This compound is composed of calcium carbonate, ( known as" Whiting") , boiled linseed oil, pure gum turpentine and lamp black. It is mixed to a thin cake batter consistency and forced under the lead flanges with a brush on both sides. The excess is then brushed off and powdered whiting is dusted over the panel to soak up excess cement compound. After a few minutes, it is brushed off again, set to cure a little and then the Came edges picked clean several times until there is no residue left on the surface. After curing some additional time, the panel is placed on the table for the addition of reinforcement bar. Once the bar is attached and cleaned again, it is carefully crated for transportation and reinstallation by the field crew.

Installation: Again the field crew is scheduled to reinstall the restored window and the first task is to set up access to the window. Once set up, any board up is removed and the opening frame is prepared, cleaned and often restored before the stained glass is reinstalled. When installed, the glass is fully supported and secured by the surrounding frame with stops or anchors, glazing compound or sealants depending on the specifications required. Reinforcement bars have been notched for allowance and steel "T" bars are often used to divide sections of stained glass for long term durability. The exterior frame is then finish coated if required and the window goes through a final cleaning.

Protective covering: After window installation, the restored stained glass is protected by another applied storm window. This protective covering has it's own specially designed and vented frame which supports and secures the glazing material which is sealed from water infiltration. Some installations demand impact resistance, clarity durability and in some cases Hurricane resistance.

Completion: The access structure or equipment is then dismantled and removed from the work site, the work site is then cleaned, often better than found and the customer inspects and reviews the completed work.

NOTE: Our process as out lined above in Shown on the Discovery Channels "How It's Made" Program.