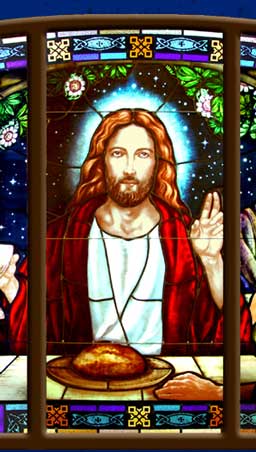 Services

"We are very pleased with our stained glass…We receive many enthusiastic compliments every day as our sanctuary is visited by tourists and shoppers on Michigan Avenue…Thank you for your high standards of excellence and for contributing in such a major way to the lasting beauty of this wonderful space"
…John M. Buchanan, Pastor
FOURTH PRESBYTERIAN CHURCH of CHICAGO Successful stained glass work requires a full service provider like Bovard Studio. Partial solutions, that necessitate coordinating and integrating different vendors such as artists, engineers and construction crews, can cause substantial mistakes, rework and delay. Bovard Studio provides the following complete array of services:
Design
New window creation
Restoration
Maintenance
Window frames
Protective covering systems
Engineering
Construction management
Total quality management regardless of project size
Your guarantee of total quality, when you engage Bovard Studio, includes:
Quality of design
Quality of craftsmanship
Quality of the completed job
Quality of our relationship with you
Our entire company is dedicated to achieving your aspirations at every stage of the project. Don't hesitate to call or email us with your problems, or ideas or to obtain a written estimate for your project. We are experts at helping you to clarify your needs and to make the right choices. Our many years and hundreds of projects have allowed us to perfect the art and science of on time and on budget, stained glass project management.