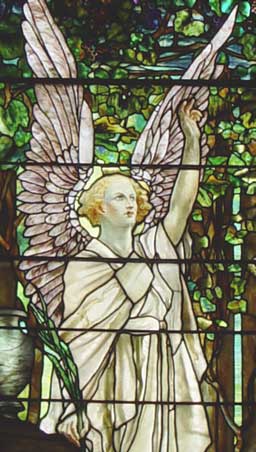 Restoration
"…my sincere thanks to you for the beautiful restoration project at St. Peter's Church. The restored church, with the magnificent windows, was truly a work of art…"
…Most Reverend William J. Levada. Archbishop of San Francisco
THE ARCHDIOCESE of SAN FRANCISCO As restoration experts with an outstanding track record, Bovard Studio knows how to avoid the pitfalls of restoration and the risks of losing priceless original artwork. Successfully restoring your valuable stained glass windows requires:
High levels of professional craftsmanship
Great artistic talent
Tight project management to ensure completion on time and on budget
A full service provider
Dedicated and caring customer liaison
As our customer your restoration aspirations are our goals and your delight is the measure of our success. At Bovard we all feel strongly that we are in this business because we love it. We will be delighted to answer your questions and concerns, call or email us. Bovard Studio's renowned full service stained glass restoration offering includes:
releading
frame and sash restoration or replacement
reconstruction of fire damage
restoration of stained glass paint
moving stained glass windows
wind loading certification

rebuilding and/or modifying steel infrastructure
general maintenance and repair
stabilization of unstable stained glass paint
replication of lost glass painting
structural engineering consultation
During your restoration our experts will perform some or all of the following activities:
Verify insurance coverage
Photograph the windows to be restored
Prepare and remove windows
Pack and transport windows
Photograph and prepare the individual stained glass sections for restoration
Disassemble window sections and analyze materials
Test and clean glass sections
Create and repair missing or damaged pieces
Reassemble the windows
Assess and resolve possible structural deficiencies
Repair and restore window frames while window is "in the shop."
Reinstall and repair windows with structural weaknesses
Create suitable protective covering
Before we begin, we will explain each step in the restoration process so that you are comfortable with the procedures and quality of the restoration.